United Mechanical is one of the largest providers of preventive maintenance, repair, retrofit, replacement, and modernization services throughout the Northern California. Our highly skilled group of technicians and mechanics are equipped to ensure the safety, energy efficiency, reliability, and asset value of your HVAC and plumbing systems. Our valued clients include some of the most high profile and technical facilities in the Northern California. These include data centers, research labs, electronics manufacturing, higher education facilities, industrial plants, office campuses, and bio-pharmaceutical facilities.
We employ state-of-the-art diagnostic tools, service tools, dispatching systems, mobile technology, and a fully stocked service fleet to deliver you unmatched speed of response, 24 hours a day, 365 days a year.
United Mechanical's Large Tonnage Expertise
We employ the best expertise in the business when it comes to large tonnage cooling equipment. Our group of large tonnage mechanics are among the most respected in the nation, recognized as leading technical experts in their field. Whether it be a centrifugal, screw, or large chassis recip, including all magnetic bearing compressors, we are one of the few service providers capable of servicing all major OEM brands with our own in-house personnel.
We know you need rapid response service, 24/7/365. Instead of waiting days or even weeks for an OEM technician to make it to your site, our team stands ready to respond within hours to your demand service calls. The other added benefit of using United Mechanical is that unlike an OEM technician that may just work on one type or brand of equipment, we can handle your entire mechanical system. This results in single source accountability, faster response and repair, and quite often, substantially lower costs.
We specialize in:
Maintenance, repair, overhaul, and modernization services
Refrigerant management systems
Annual services and tear-downs
Control systems upgrades and retrofits
Engineered energy optimization projects for both central plants and buildings as a whole
Laser alignment and vibration analysis
Fan balancing for cooling towers and air handling equipment
Chiller and condenser Eddy current testing and re-tubing
Cooling tower rebuilds
Pumping equipment service, repair, and optimization
Variable frequency drive retrofits and panel upgrades
Major system replacement projects including design-build engineering and turnkey project management
OEM Equipment Expertise:
Our team has over 100 years of combined experience with all major large tonnage OEM equipment including:

Trane
York / JCI
Smardt
Carrier
Daikin / McQuay
Turbocor
Bitzer
Multistack
Motivair
B.A.C.
Marley
Evapco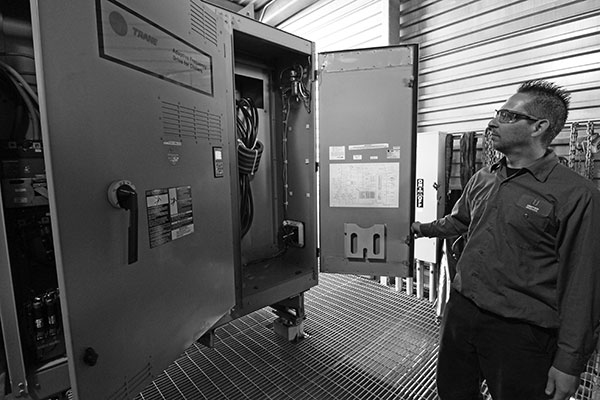 Proud Members Of